ArchTop Guitars
Showing all 3 results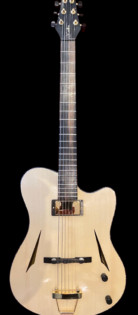 Bellagio (12″) 75th Anniversary
La Bellagio est une guitare archtop de petit gabarit qui sans nul doute vous séduira par sa forme et ses courbes très élégantes.
Dotée d'une finition irréprochable à l'image de toutes les guitares Castelluccia, les sonorités sont à la hauteur de l'excellence de la belle lutherie.
La lutherie de la Bellagio.

La Bellagio est une guitare archtop au gabarit réduit, léger et ergonomique. Elle dispose d'une table en épicéa massif sculpté dans la masse, avec des éclisses massives en acajou et un fond en érable massif sculpté dans la masse.

A l'image de mon modèle Septua, la Bellagio est fabriquée de manière classique avec une caisse complètement évidée, une véritable hollow body.

J'ai voulu proposer une guitare sobre et élégante et réaliser un instrument qui sonne magnifiquement en acoustique, le micro parfaitement adapté ayant pour finalité d'exacerber la palette sonore et les qualités acoustiques de la Bellagio.

Ne disposant pas de la fameuse poutre centrale, communément utilisée sur ce type de guitare, la table et le fond sont parfaitement libres à l'image des guitares acoustiques.

L'utilisation d'un micro encastré dans la table permet de pouvoir pousser le gain et le volume sans risque de larsen. Le diapason est de 628mm et un manche de type « C ».
La forme du pan coupé donne accès aisément jusqu'à la 21eme case.

Plusieurs options seront proposées en terme d'accastillage et de finitions. Plusieurs types de micros seront proposés.
[button style="btn-default btn-sm" type="link" target="true" title="Voir le banc d'essai" link="/wp-content/uploads/2021/05/be-bellagio-2.jpeg"]
[badge bgcolor="#982b31" value="Livrée en étui sur mesure"]   
[badge bgcolor="#982b31" value="Disponible sur commande sous 3 à 4 mois"]      


4500,00

€

TTC
Add to basket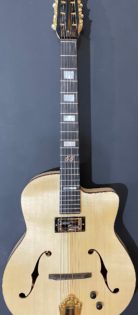 Archorus
It is at the request of some jazz guitarists that this hybrid guitar was born, its name the Archorus (half archtop / half gypsy chorus). Made on the basis of an acoustic chorus model with louvers, this guitar is thinline (6cm thick), that is to say with a narrower body than the acoustic version, is equipped with a Lace Alumitone fusion jazz 251 GP N pickup offering an open and organic sound. The ideal marriage between a standard gypsy guitar and an electric archtop guitar.
4500,00

€

TTC
Add to basket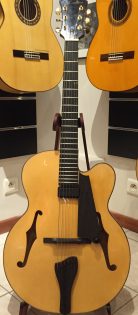 4700,00

€

TTC
Add to basket